3 years ago today: The Husky Refinery in Superior, Wisconsin exploded.
The day it happened

11am: I was living less than a mile from the Husky refinery in Superior, Wisconsin. I thought the explosion had something to do with railroad noises that are familiar around the Duluth Superior area. That was until my house got hit by the shockwave and I felt a sense of vertigo because of how much my house was moving back and forth. I saw fire from the refinery smoke stack outside and decided to bike closer to the area. Security had already blocked off the road and black smoke was growing rapidly out of one of the fire stacks.
12pm: The entire city of Superior was asked to evacuate because of the refinery fire. Rumors of hydrogen fluoride on site vaporizing and turning into mustard gas terrified everyone in the city. Local news coverage streamed footage of the fire, then national news came. This was certainly a day that everyone in the Duluth Superior area will remember.
How It Happened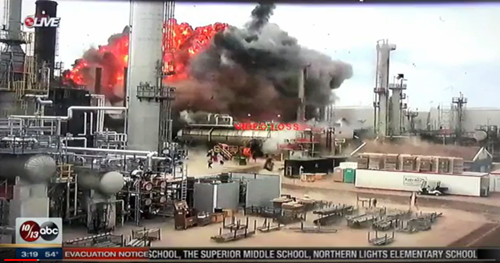 In short: The refinery was shut down for safety checks and a safety valve inside one of the carbon holding tanks was broken meaning some of it escaped. The carbon mixed with oxygen and caused a massive explosion. Debris from that explosion hit one of the asphalt holding tanks and caused a spill and eventually a fire. The threat to the city of Superior was very high, however burning asphalt was not the issue, the issue was the other chemicals stored on site.
My friend from college Jimmy Lovrien also wrote about the refinery fire, according to the Brainerd Dispatch article: "the U.S. Chemical Safety and Hazard Investigation Board — still has yet to release its final report on the April 26, 2018, fire and explosion that prompted an evacuation of much of Superior." The CSB has had a lot of difficulty with staffing it's board and the investigation into the refinery is listed still as ongoing.
Photos I took that day:
I will add to this story soon because there is a lot more to my own experience with Husky in that I actually started working there in December of 2018 less than a year after the explosion.